Althea Ydrousa
2 baths
1 bedroom
67,37 sqm
ideal for AirBnb
Sale price
180.000 €
+ Auxiliary space 37,39 sqm
35.000 €
Althea Ydrousa Maisonette
Homes for sale in Andros
In the "Ydrousa" maisonette, blue, white, wood and an unwavering island aura prevail.
A spacious and modest maisonette. In the living room there is a shaded veranda, fully equipped kitchen and WC. It is dominated by the blue of the sky and the sea that stretches imposingly in front.
The corner fireplace in the living room and the island arch embrace the kitchen area.
The floor is again dominated by Aegean white and blue with the imposing built-in bed.
The bedroom terrace is open and sheltered from the wind.
Specifications
---
Total area 63,37 sqm
Ground floor
(Living room & WC) 37,5 sqm
Balcony lower 4,13 sqm
Bedroom and bath 29,8 sqm
Balcony upper 7,16 sqm
Auxiliary space 37,39 sqm
Large sheltered yard
Ideal for multiple uses
Characteristics
---
Sale from owner
Independent heating
Full amenity oak kitchen
TV
Air conditioning
Private parking space
600m from the sea
2,5km from Batsi
2 levels( + auxiliary space – 3 levels)
Uninterrupted sea view
Dining area
Ideal for AirBnb
Sheltered balconies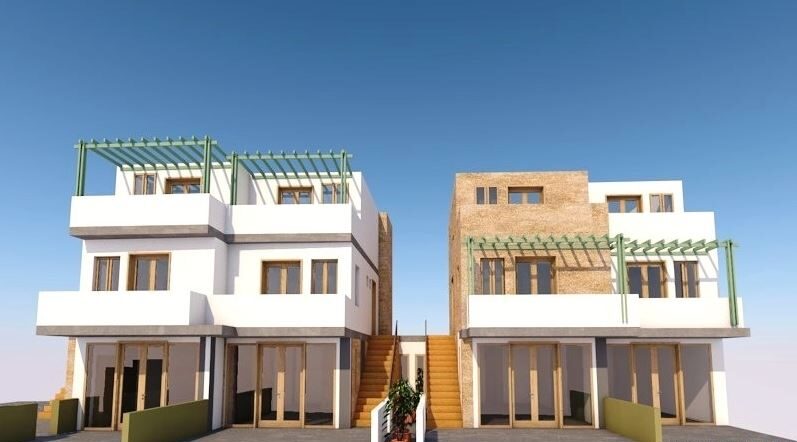 Auxiliary space
Under the "Noagria" maisonette, there is an auxiliary space, which can be used in various ways.
Area 37,39sqm
Yard 15,61 sqm
Sheltered yard
Uninterrupted sea view
Price 35.000€